A while ago we have added a new, cool feature to our site – banners!
What are banners?
Banners are personalized images that present information about your flights achievements in a graphical form. They can be used to publish your flight experience on your website or blog. A popular way of using banners is adding them to the signature field on internet fora, so it's displayed directly under your answers in different topics.
All banners present the same data, just in different graphical form:
Your flights count
Total flights duration
Total distance
What kind of banners there are?
We have prepared several types of banners, so you can choose the one that fits best on your website. Below we present some of the available banners personalized for our "Demo" user:
Metro UI small
Inspired by beautiful Metro UI from Microsoft. It comes in many different foreground & background colors, so you can adjust it for your needs:




Metro UI large
Bigger brother of the "Metro UI small" banner using vertical data layout:
For the entire selection please see our banners page.
How to use them?
Using banners is very easy. All you have to do is visit our banners page (My Flights -> Banners) and pick one for yourself. For most of our banners you can also choose different colors. Once you have your banner selected and color picked simply copy the html or bbcode presented on the right side of your banner to your website or forum.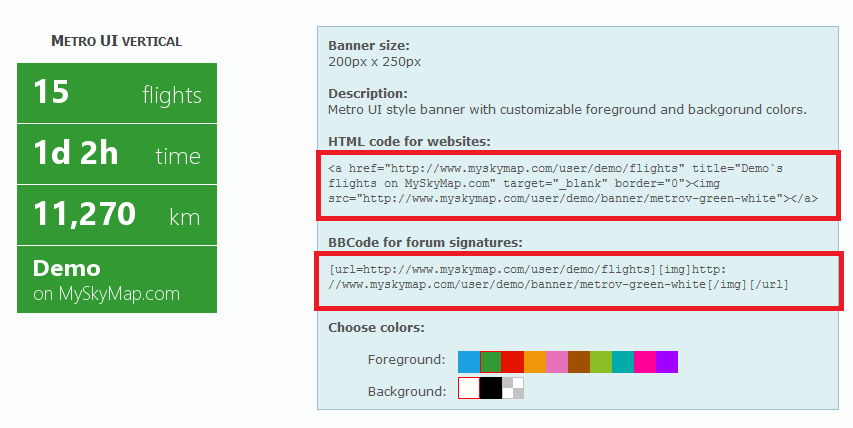 Important: To see a personalized banner, you need to login first. Otherwise banners will present flight achievement of our Demo user.
Help
If you still need help or have request for a different banner size or shape please contact us.